Fuel water separator 6732716120 separate water 6732-71-6120
Product Detail
Product Tags
Size
Outer Diameter : 94mm
Inner diameter 1 : 63mm
Inner diameter 2 : 72mm
Height : 165mm
Output Thread Size : 13/16-18 UNS-2B
Supplement/Supplementary Information : with seal
OEM
CATERPILLAR : 3I-1178
CATERPILLAR : 3l-1178
CLAAS : 0341 771 0
CUMMINS : 3890706
CUMMINS : 3903410
CUMMINS : 3930942
CUMMINS : 3935274
KOMATSU : 161623
KOMATSU : 6732-71-6120
KOMATSU : 6742015065
KOMATSU : CU390-3410
KOMATSU : CUFS1280
Cross reference
BALDWIN : BF1280
BOSCH : 0 986 450 520
BOSCH : 0 986 450 713
CLEAN FILTERS : DN2719
DJ PARTS : FF1280
DONALDSON : P551329
FIL FILTER : ZP 525 AF
FLEETGUARD : FS 1275
FLEETGUARD : FS1280
MANN-FILTER : WK 9165/1 x
MANN-FILTER : WK 9165 x
Fuel Filter
There are three types of fuel filters: Diesel filter, Fuel Filter and Gas filter. The function of the fuel filter is to prevent particulate matter, water and impurities in the fuel, and to ensure that the precise components of the fuel system are protected from wear and other damage.
Working principle
The fuel filter is connected in series on the pipeline between the fuel pump and the throttle body inlet. The function of the fuel filter is to remove the iron oxide, dust and other solid impurities contained in the fuel to prevent the fuel system from being blocked (especially the fuel injector). Reduce mechanical wear, ensure stable engine operation and improve reliability. The structure of the fuel burner consists of an aluminum shell and a bracket with stainless steel inside. The bracket is equipped with a high-efficiency filter paper, which is in the shape of a chrysanthemum to increase the flow area. EFI filters cannot be used with carburetor filters. Since the EFI filter often bears the fuel pressure of 200-300KPA, the compressive strength of the filter is generally required to reach more than 500KPA, while the carburetor filter does not need to reach such a high pressure.
Contact us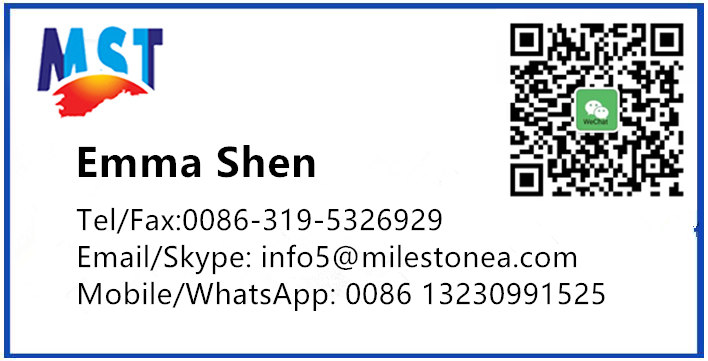 We just do high quality products with best service!
—————————————————————————————————————————-
Xingtai Milestone Machinery Technology Co.,LTD
Emma
Tel: + 86-319-5326929
Fax: +86-319-5326929
Cell: +86-13230991525
Whatsapp/wechat: +86-13230991525
Email / Skype: info5@milestonea.com
Website: www.milestonea.com
Address: Xingtai High-tech Development Zone, Hebei . China
---
---
Write your message here and send it to us